COVID-19
Auditing Profession Resources
Friday, July 24, 2020
The COVID-19 pandemic has led to unprecedented impact across all professions, including audit. The CAQ, our member firms, and regulators are continually updating resources to help you navigate through the uncertainty and changes to the financial reporting ecosystem while maintaining the high audit quality standards that protect the capital markets.
Access the CAQ's COVID-19 resources:
We are making frequent updates to the materials on this site. Check back weekly for updates and new publications.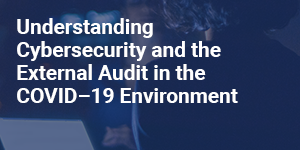 Access resources developed by our member firms:
Didn't find what you're looking for?
To help you navigate to the most relevant resources quickly, please download our COVID-19 Index and search for available content by topic. This Index will be updated weekly, so come back to access important updates.